This post may contain affiliate links. Please read my disclosure policy.
Flaky, buttery, delicious blueberry Paleo scones that are made irresistible by the lemon glaze. But the best part – they are Paleo, gluten-free, and grain-free! When you have a need for something special for breakfast, turn to these.
One of our fave breakfast treats are scones. Delicious, filling, flaky, buttery scones. Oh man, my mouth is watering just writing this.
I am a participant in the Amazon Services LLC Associates Program, an affiliate advertising program designed to provide a means for us to earn fees by linking to Amazon.com and affiliated sites.
Flaky with Incredible Flavor
I came up with these scones since I wanted to push the bar a bit on the Paleo versions. Some, while good, are kind of just almond flour bombs – very dense and not buttery and flaky at all.
Want an AIP scone instead? Check out these egg-free Lemon AIP Scones
These though are a lot more like the scones I used to love.
These have lemon flavor within them, but a lemon glaze makes them completely irresistible.
I did top these particular ones with a decorative cane sugar – probably not "Paleo" but it's like the sprinkles on a cupcake. Are a few gonna kill you? Probably not, and it does give it a nice little crunch too. But feel free to completely skip that part or use some coconut or maple sugar sprinkles instead.
Tips for Flaky, Paleo Scone Success
When you make this, there are a few important things to note.
You need your oven HOT and your dough COLD. If you do not do these things you'll have delicious flatbread. They want to spread like nobody's business but if you can make sure you dough is cold enough to not start spreading before the baking process happens you should be fine.
With this whole oven HOT thing – the oven temp needs to be between 375 F and 400 F. Not 350 and not 425. If you don't know your oven, get a thermometer to put inside of it. Most ovens are so ridiculously off the temp the little digital display shows it's a joke. I honestly preheat my oven at 400 F and by the time I get my scones in it's usually pretty stable at 375 F. Then as soon as I put the scones in I bump the temp up to 425 F to keep it at 375 F. That's how off my oven is (and this doesn't matter if it's been preheating for 20 min or 2 hours!)
I used coconut sugar in the scone and maple sugar for the glaze. You can use either one, but I like how the maple sugar gives the glaze a lighter look than the coconut sugar does, and again, you'll have less spreading of your scones if you use coconut sugar in the scone because coconut sugar isn't as fine as maple sugar is. (it won't melt/turn to liquid as fast).
Coconut cream is found at the top of a refrigerated can of coconut milk (it's the solid stuff), or I just buy it in these convenient little cans and keep a bunch in my fridge. You never know when you might want a batch of coconut whipped cream to throw over some strawberries or something, so they are awesome. Plus 1 can is the exact amount you need for this recipe.
A pastry cutter really isn't necessary for this, but it does make the job of adding the butter to the flour easier and it doesn't melt as much. If you make a lot of pie crusts, scones, etc that use butter and a flour mixture, they are handy. At under $6 it isn't going to break the bank either.
Enjoy and please let me know if you make them!
More Helpful AIP & Paleo Resources in the Freebie Library
If you find this recipe helpful, you may really enjoy the resources in my Paleo & AIP Freebie Library! There's a "dump" freezer meal plan, a list of AIP-compliant breakfast toppings, and so much more. Plus, you'll get even more ideas sent to your inbox! Get the password here.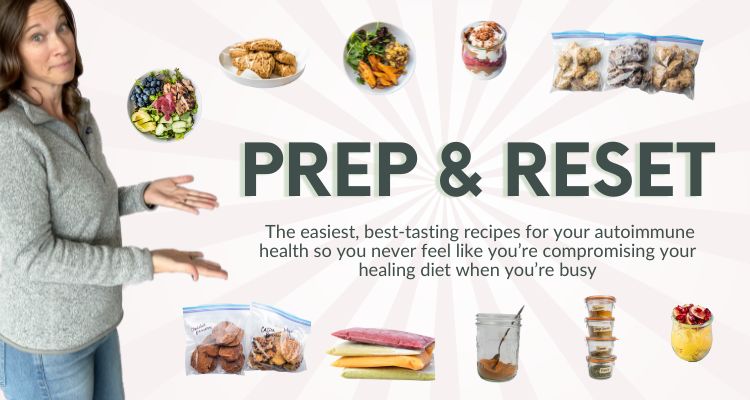 The Blueberry Lemon Paleo Scone Recipe
If you make these scones, I'd love to hear how they turned out! Either comment below or share a pic on Instagram and tag me @thrivingautoimmune!
Paleo Blueberry Lemon Scones
Flaky, buttery, delicious blueberry Paleo scones that are made irresistible by the lemon glaze. But the best part – they are Paleo, gluten-free, and grain-free! When you have a need for something special for breakfast, turn to these.
Ingredients
For the Egg Wash
1

Egg

(beaten)

1

tbs

Water
For the Lemon Glaze
4

tbs

Maple Sugar

1

tbs

Lemon Juice

(approx half a lemon)
Instructions
Preheat the oven to 375 F (see my notes above – MUST be between 375-400 F) and line a baking sheet with parchment paper.

Cut the butter into small pieces or grate it. Place it in the freezer while you get the other items ready.

In a large bowl, mix together the flours, salt, baking soda, coconut sugar, and lemon zest.

In another large bowl, mix together the egg and coconut cream. Break the coconut cream up a bit with a fork until it's not super chunky. Add the vanilla and lemon juice and mix thoroughly.

Add the frozen butter to the flour mixture and either using your hands, a pastry cutter, or two forks, work the butter into the flour until it resembles coarse meal.

Add the flour mixture to the wet mixture and use a spatula to stir until just moistened.

Gently mix in the blueberries with the spatula.

Pour the mixture onto a surface sprinkled with a bit of cassava flour and then shape into an 8-inch circle. Cut the dough into 8 slices and then transfer to the prepared baking sheet. It helps if you run your knife under some hot water first. (If you have time at this point, put the dough in the fridge or freezer for 10 min to really get it cold – it will help ensure success.)

Lightly brush the tops of each scone with the egg wash and then sprinkle with the decorative sugar if desired.

Bake for 18 min.

Cool for approximately 10 minutes.

Meanwhile, make the glaze – put the maple sugar into a blender, food processor, or spice grinder (my favorite method) and process for around 20 seconds, or until the sugar is a powder. Transfer to a measuring cup with a pour spout. Add the lemon juice and stir until all the sugar is incorporated.

Drizzle over the scones. (If it doesn't want to pour/drizzle over the scones easily, add a little more lemon juice).
Did you make this recipe?
Leave a comment below or share a photo on Instagram and tag me @thrivingautoimmune !