This post may contain affiliate links. Please read my disclosure policy.
A healthy Halloween snack that is sure to delight your children and make them actually WANT to eat fruits and vegetables. Get as creative as you want with this fun platter of healthy treats! Paleo and Whole30
Getting your kids to eat a healthy snack sometimes is easy, sometimes not. But when you add a theme to it, like this Halloween one, you might just get lucky and have them gobble it up.

I am a participant in the Amazon Services LLC Associates Program, an affiliate advertising program designed to provide a means for us to earn fees by linking to Amazon.com and affiliated sites.
All of this is made of is yellow and orange bell peppers, a cucumber, some parsley, a pear, 2 mini chocolate chips (I like the Enjoy Life dairy-free ones) and a raisin. You can put it on any plate, or heck even a piece of black construction paper, but Target has these black plates for sale right now (Oct 2016) for $1.99 a piece and they are melamine plastic. Like perfect kid plates.
If your kid is a carrot fiend then you could always replace the orange bell pepper with carrot coins. Just slice each carrot into 1/4 inch thick coins. I did not do this since my kids are NOT carrot fiends. Not sure what beef my kids have with carrots, but they sure don't like them. Hmmm… At least they love bell peppers!
These are also the perfect snack to feed a small class or some kids at a playgroup since they are free of all the major allergens. Nut-free, dairy-free, gluten-free, vegetarian, vegan, etc… Trust me, I get how it's always a struggle to find something that EVERYONE can eat. You could always make a mega sized platter of this and the kids just help themselves. Though I do suggest having a "ghost" for everyone. I learned first hand from my two kids that just one didn't work 🙂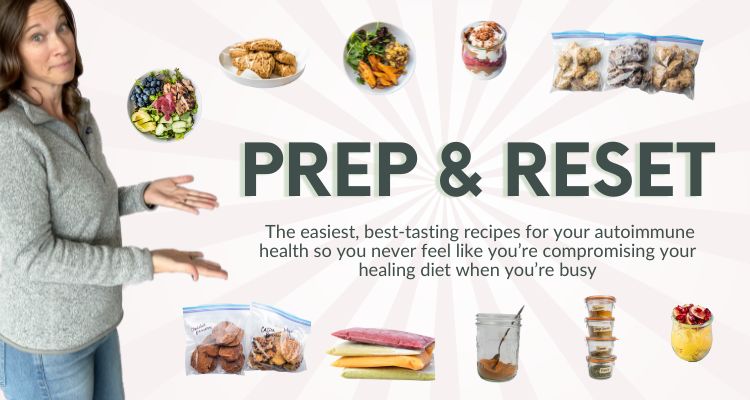 More Helpful AIP & Paleo Resources in the Freebie Library
If you find this recipe helpful, you may really enjoy the resources in my Paleo & AIP Freebie Library! There's a "dump" freezer meal plan, a list of AIP-compliant breakfast toppings, and so much more. Plus, you'll get even more ideas sent to your inbox! Get the password here.
Halloween Snacks for Kids Recipe:
If you make this snacks, I'd love to hear how they turned out! Either comment below or share a pic on Instagram and tag me @thrivingautoimmune!
A Healthy Halloween Snack for Kids
Ingredients
1

Yellow Bell Pepper

1

Orange Bell Pepper

a few sprigs Parsley

1

Cucumber

1

Pear

2

mini-chocolate chips

(I use Enjoy Life)

1

Raisin
Instructions
Cut the bell peppers in half. Cut the pumpkin shapes in the orange bell pepper by placing the pepper skin side down and cutting circles with a small circle cookie cutter. Do the same with the yellow bell pepper and a slightly larger circle cookie cutter.

Cut the cucumber into slices and then each slice into half-moon shapes.

Cut the pear about a 1/4 inch from the center and then again at the center, making a 1/4 inch thick slice. Remove the seeds.

To arrange it all, lay down the cucumbers as the ground. Then add the "pumpkins". Break off small pieces of parsley for the pumpkin leaves and then a small piece of parsley stalk for the pumpkin stalks. Place the moon at the top. For the ghost, place the pear slice on the plate and then the chocolate chips for eyes and the raisin mouth.
Did you make this recipe?
Leave a comment below or share a photo on Instagram and tag me @thrivingautoimmune !