This post may contain affiliate links. Please read my disclosure policy.
Learn how to make a DIY Blush with this tutorial – it's makeup that you could seriously (safely) eat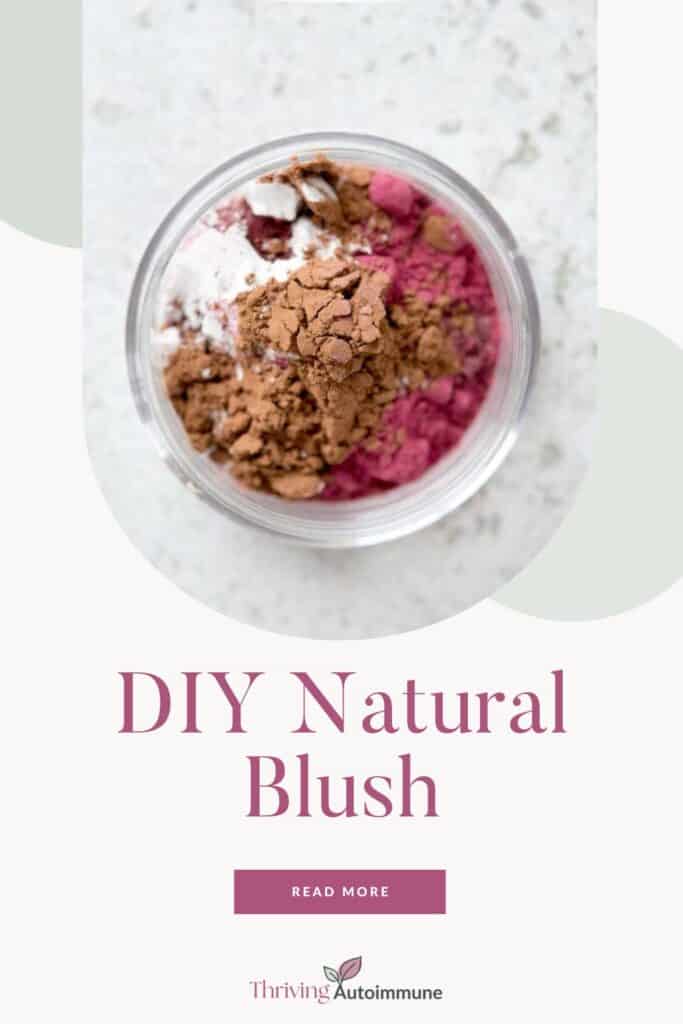 The next in my continuing series of how to make your own natural homemade beauty products (see DIY Deodorant , DIY Eyeliner, or DIY Bronzer), is how to make your own blush.
DIY Blush
Now blush is definitely one of those things to pay attention to the ingredients of, as many of them have nasty ingredients in them.
And even the more natural ones often contain corn, which many people don't tolerate very well.
Why Worry About Toxins or Ingredients Like Corn in Blush?
For those of you wondering why you would bother worrying about what goes on your skin, think of things like the nicotine patch.
You put that ON your skin, yet the ingredients absorb into your skin, right?
Our skin is one of our biggest organs and it absorbs things quite easily. It also keeps things out as well, but a large number of the toxins that find their way into our bodies either get ingested or absorbed.
Or if you are trying to be really good not eating certain ingredients yet you put them on your skin – how many times a day do you put your hands near your mouth?
So to prevent the yucky ingredient in mouth syndrome, I made a toxin-free, corn-free, garbage-free blush that I would feel completely safe putting on my skin.
All Natural, Safe Ingredients You Could Eat!
I've had a lot of success with the different color combos I have come up with.
The color goes on beautifully and lasts all day long and the ingredients are so clean that I wouldn't blink to eat them.
Try that with one of those blushes you can find at the cosmetic counter in a department store! Yuck!
The ingredients include things like arrowroot powder, hibiscus powder, beetroot powder, peach powder, and cocoa powder.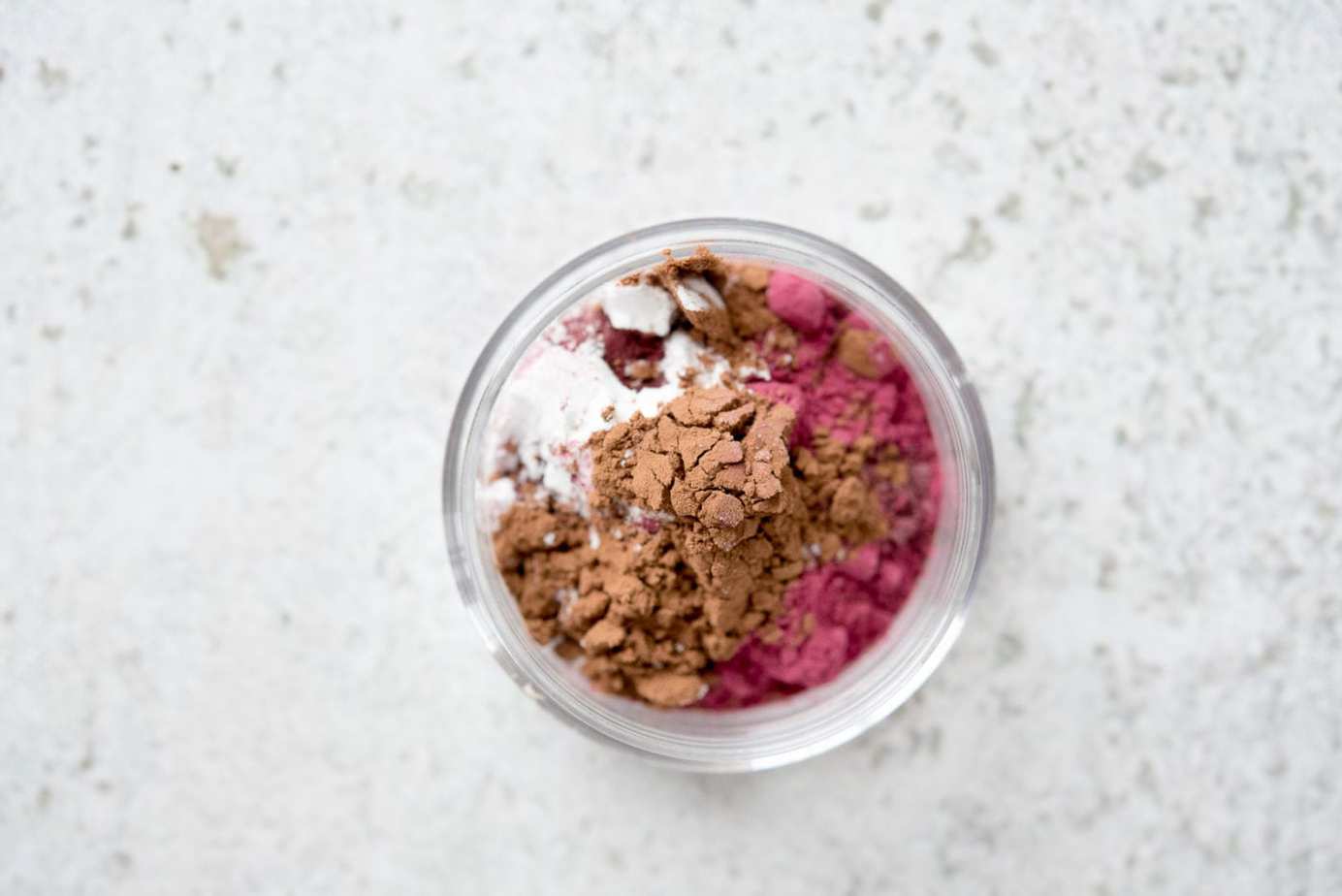 How to apply this Homemade Blush
This type of blush works best if you dip the brush into the mixture, then sort of blot/blend into the lid of the container or the back of your hand, then apply.
If you have ever used any mineral blushes, like from Bare Minerals, etc, this is the same principle.
Sometimes people have drier skin where this blush tends to fall off quicker – in that case it's best to apply this immediately after moisturizing.
How to Mix the Colors and Make this DIY Blush
As you can see in this picture below, you can dramatically vary the color based on the ingredients and proportions of the ingredients you use.
Always start out with arrowroot powder as a base (it applies to your skin very nicely and smoothly and holds the other colors well) and then add the color components.
I like to experiment to see which combination I like best, but typically I have a few combos on hand to suit my mood or outfit or even how tan I am.
It's kind of addicting to see how many different colors you can come up with, and even use different ingredients to see if it makes a difference.
All you need to do though is mix the ingredients in a small container. That's it!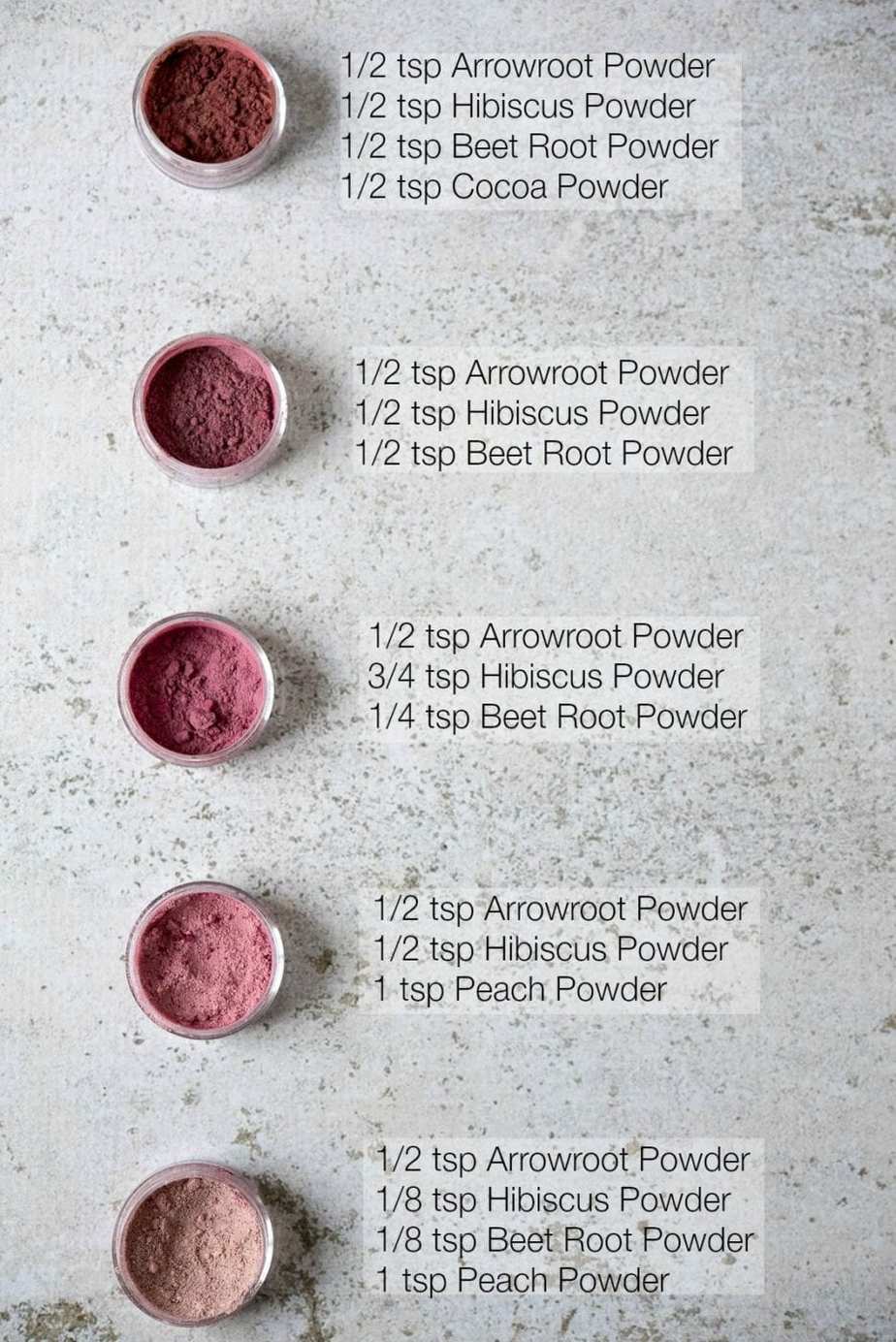 Where to find the ingredients:
I am a participant in the Amazon Services LLC Associates Program, an affiliate advertising program designed to provide a means for us to earn fees by linking to Amazon.com and affiliated sites.
You can make your own beetroot powder by dehydrating beets and then grinding them in a food processor, but I find it just easier to buy them. I get mine from Amazon.
I also found the Hibiscus Powder on Amazon.
The cocoa powder and arrowroot powder I get at my local grocery store.
The peach powder is from freeze-dried Peaches that I use for a number of things (toppings on cookies, snacks, trail mixes, etc) and I get mine on Amazon too. I just powder it in a small spice/coffee grinder.
The containers I use are from Amazon, but you can also just use a small glass jar.
What I use as a moisturizer
I often get questions about what moisturizer I use on my face, and I love the Blu Berry Elixir Serum from Primal Life Organics.
LIKE MAKING YOUR OWN PRODUCTS?
If you like making your own homemade products, check out my Homemade Gifts Book which has many beauty products you can make for friends, family, or yourself.
It comes WITH printable labels for each product to make them look profesh and chic too
More posts you might like….
Make Paleo easier, faster, less expensive, and way more fun with all the resources in my Freebie Library! Click on the picture to find out how to access it.