This post may contain affiliate links. Please read my disclosure policy.
In this post: How AIP & Paleo freezer meals can save you a ton of time, energy, effort, and money, plus a roundup of some of my favorite meals to freeze.
No Time To Cook
If there's anything I seem to be able to count on, it's the desire to make dinner on a weeknight to be nonexistent.
Meal planning can be so hopeful – images of beautifully prepared meals from 3 different cookbooks dance in my head. Visions of my family showering me with praise for my amazing cooking skills entice me.
When it comes to the actual weeknight to make these dinners?
Kid's activities, school obligations, my husband's work meetings, and just sheer exhaustion from a full day of working and activity seem to push any and all desire to cook right out.
This is the danger zone when you know how food affects you and your autoimmune diseases.
Why?
Because you're more apt to give up on your well-intentioned plans and eat fast food or something that may not make you feel your best.
Plan to Fail
I love this quote:
If you fail to plan, you are planning to fail"

Benjamin Franklin
I think ole' Ben got it right, but I like to take it a step further – I actually PLAN, but then plan to fail again.
I know, a bit meta and confusing. Here's what I mean:
I like to meal plan, but I also know life gets in the way sometimes. And those times, I plan to fail on the meal planning. So… I have a BACKUP plan.
Freezer Cooking
This backup plan is freezer cooking. Freezer meals sitting, just waiting for those times when my meal planning is surely going to go south.
Sometimes I incorporate those freezer meals right into my plan. Like when I know I have a busy day and then my kids are going to be out swinging around like monkeys at the Ninja Warrior gym until 6:30 pm. Those days I plan to break out one of my AIP & Paleo freezer meals.
Other times I have full intention to make something else but for some reason, it's just not going to work out, so I break out one of the freezer meals.
They're lifesavers!
I Don't Love Batch Cooking Meal Prep
I know a lot of people swear by batch cooking meal prep, but it doesn't usually work for me for several reasons:
we're too busy on the weekends and I just don't have time
again with that plan thing – if I DO spend time batch cooking over the weekend half the time our plans change so I wind up wasting a lot of that food
I find batch cooking stressful. Too many things going on at once
It's not that I don't EVER batch cook, I do, but it's not my preferred method of getting a bunch of things meal prepped at once.
"Dump" Freezer Meals
That's why I LOVE, like love love love, "dump" freezer meals.
If you've never heard of them, they are just like they sound – meals that you DUMP into a bag – without ANY cooking, and freeze.
Like you dump some raw chicken, some spices, salt, honey, and coconut aminos into a bag and freeze.
A few days, weeks, months later when you need a meal? You take that chicken bag out, thaw it, and DUMP it into your slow cooker.
It takes like 5 min max to prep, and 2 minutes to throw it into your slow cooker. Hands on work? 7 minutes.
If you do a bunch of these meals at once? You share the setup and cleaning between those meals so you save even more time. No need to get out the spices a bunch of times, no need to clean up after a bunch of times. Just once.
See how easy it is in this video below:
Advantages of Making AIP & Paleo Freezer Meals
You can typically get at least 7 meals prepped in an hour, so you can do it whenever you have some spare time. And considering a typical batch cooking session takes 2 hours, that's 14 meals you could prep (even more if you just double the same recipes) in that 2 hour period.
And the best part? Some of these meals don't even need thawing – like if you're going to use the Instant Pot, those can be cooked directly from frozen. Talk about healthy fast food!
They also taste great and have lots of flavor- they don't taste like leftovers because you're actually cooking the meals for the very first time when you serve them.
Steps for Making AIP & Paleo Freezer Meals
The steps to make these dump freezer meals are really easy:
Gather all your materials, ingredients, etc according to the recipe
2. Put everything into bags according to the recipe
3. Sometimes the recipe calls for massaging the bags – this helps mix up the ingredients and saves you from having to put the ingredients in a mixing bowl (that would mean more washing! booo!)
4. Lay the bags flat and label them, then stack them in your freezer. Note: If the recipe I'm making has printable labels, I like to print them out on regular printer paper and then attach them to the bags with clear packing tape. You can also use label paper, but I find it doesn't stick as well. Or use a sharpie (though the printable labels often give directions on cooking, which is really convenient).
5. When you're ready to eat them, thaw them overnight in the fridge or quickly in some cool water and dump into a slow cooker, Instant Pot, pot on the stove, dish for the oven, or on the grill.
Things You Might Need
When doing this freezer meal thing there are a few things you might need.
Bags to hold the meals in. I use gallon-sized Ziploc bags but if you really don't want to use plastic, these silicone bags from Stasher are pretty awesome. They're pricey, but you reuse them over and over again (note, these are 1/2 gallon sized).
The plastic bag holder thingies – I'm sure they have a real name, but that's what I call them! These are by NO means necessary, but they sure make the process easier by holding the bags open for you so you can just work on tossing in ingredients.
Clear Packing Tape or a Sharpie – If you print your labels out on regular printer paper, clear packing tape will hold it on much better than printing it on label paper. Not sure why that is, but after years of finding labels orphaned in my freezer I gave up on trying that method. Alternatively, you can just use a Sharpie – but the labels typically explain how to cook the dish, which is super convenient.
AIP & Paleo Freezer Meals
Because I'm so very passionate about this style of cooking I have created a ton of AIP & Paleo freezer meals for both myself and my readers.
Paleo & AIP Thai Chicken Soup
The first AIP & Paleo freezer meal is this Thai Chicken Soup. It's nightshade-free but still has a TON of flavor and is one of our most favorite dishes.
See the Paleo & AIP Thai Chicken Soup recipe
Paleo & Cherry Balsamic Pot Roast
The next recipe is this Paleo & AIP Cherry Balsamic Pot Roast. It's SO comforting on a cold evening and has had rave reviews from people that aren't even in the least on a restrictive diet.
See the Paleo & AIP Cherry Balsamic Pot Roast freezer meal recipe
5 Paleo & AIP Chicken Marinades
If you're into grilling chicken, these 5 AIP & Paleo Chicken Marinades for freezing will be right up your alley (though you can also cook these in the oven, slow cooker, or Instant Pot too)
See the 5 AIP & Paleo Chicken Marinades for Freezing post
Paleo & AIP Hawaiian Meatloaf
Bring a bit of tropical flair into your life during a cold winter's night with this nightshade-free Paleo & AIP Meatloaf.
Rosemary Lemon Chicken
This Rosemary Lemon Chicken is another flavorful chicken dish you can grill or bake with a side of broccoli cauliflower rice!
Mini 3-meal Paleo & AIP Freezer Meal Plan
Get a Mini 3-meal AIP & Paleo Freezer Meal Plan in my Paleo & AIP Freebie Library – get the password here for instant access!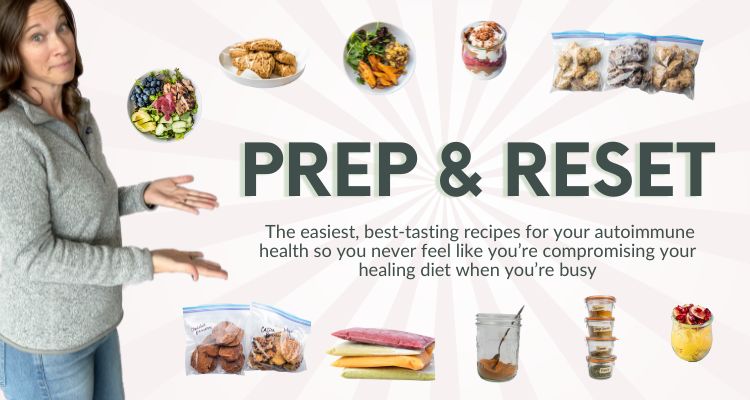 Summary
AIP & Paleo freezer meals are lifesavers when you are busy and need a quick weeknight dinner.
Dump freezer cooking is a quick and easy way to prep a whole bunch of meals at once without having to cook anything during your prep session.
Freezer meals can typically just be dumped into a slow cooker, Instant Pot, oven, stove, or grill and cooked with minimal effort.