This post may contain affiliate links. Please read my disclosure policy.
Not sure what to make for dinner? This sweet-and-sour Paleo & AIP meatloaf is super easy to make, just mix and bake! And the best part? You can make one now and freeze one for later without cooking! This recipe takes your meal prep to a whole new level – one without any extra effort!
Paleo & AIP Meal Prep Made EASY
So here's the thing. I may have been eating some form of the Paleo diet for years now, but it doesn't mean I love cooking dinner any more than I did before I started eating this way.
Especially when it comes to something like the AIP diet – cooking seems to take on a whole 'nother level of difficulty and planning. I just want to hang out with my kids, not spend an hour in the kitchen every dang night!
That's why I'm always searching for ways to make it easier.
I've shared my love for dump-and-go AIP freezer meals before because they definitely make the whole process 12903904390433% times easier. (Yes, that's a verified, true statistic)
But wanna know something even EASIER?
Make one now, freeze one for later. By simply splitting ingredients between a bowl and a bag.
Yes, it's as simple as that.
How to make this Paleo & AIP meatloaf
This recipe is ridiculously easy to make.
Can you slice up a few stalks of celery? Even my 7-year-old can do that.
Can you drain and dump a can of pineapple into a bowl or bag? Probably.
Can you mix up a bunch of ingredients with your hands? Well, that one may be difficult for those of you with arthritis, but I promise that's the hardest part of this recipe. Maybe bribe your spouse or a neighborhood kid to do it!
This recipe is simply dumping a bunch of ingredients into a bag or bowl, mixing it all up, and then shaping into a meatloaf form (or putting it into a bread pan), and then baking.
Make one Paleo & AIP Meatloaf Now, Freeze One for Later
My absolute favorite part of this recipe though is how easy it is to just make one now and freezing one for later.
You simply double the amount of each of the ingredients, then split them between a mixing bowl and gallon-sized freezer bag.
The one from the bowl you'll mix and bake immediately, the one in the bag you'll freeze for later.
Are you a visual person? Watch the full-length Youtube video where I demo how easy it is to do both at the same time.
Printable Freezer Label for the Sweet-and-Sour Paleo & AIP Meatloaf
If you're going to be making this into a freezer meal as well, it's a really good idea to label the bag so you don't wind up with mystery meat.
Nothing is worse than finding 4-year-old freezer burned mystery meat in your freezer, trust me.
You can use a sharpie to write on the bag, but I do advise writing the cooking instructions as well.
Or you can use a printable label.
I've provided you with a printable label for this Sweet-and-Sour Paleo & AIP meatloaf recipe below. All you need to do is print it out on either regular printer paper or sticky label paper.
I personally prefer regular printer paper, cutting out the label, and then adhering the label onto the bag with clear packing tape as that seems to stick much better in the long run, but do what works for you.
Download the PDF image for printing by clicking on the image below.
How Does this Sweet-and-Sour AIP Meatloaf Taste?
This is definitely a different take on meatloaf.
If you're expecting or really wishing for a traditional Italian-style meatloaf, this isn't really it.
This one has more of a Hawaiian/Asian-flair to it with chunks of pineapple, apple cider vinegar for a tanginess, and coconut aminos for flavor.
It really stands on its own without any need for ketchup on it, but if you're making this for your family and they really want ketchup, it's easy enough to give them some for a dipping sauce or to spread it on their slices.
I am a participant in the Amazon Services LLC Associates Program, an affiliate advertising program designed to provide a means for us to earn fees by linking to Amazon.com and affiliated sites.
Or if you really want some, you can always use an AIP-friendly no-mato sauce or ketchup as well. This AIP Ketchup by KC Naturals is pretty good:
Make an Easy AIP Meal With This Side
You can see in the pics I have some diced sweet potatoes. They make a really easy side dish to make with this meatloaf.
After you put the meatloaf in the oven, peel and dice as many sweet potatoes that you'd need for serving (depending on how many people you're serving – usually 1 medium serves each person with some leftover).
Place on a baking sheet covered in parchment paper, sprinkle some sea salt, cinnamon, and ground ginger on the sweet potatoes, drizzle with avocado oil (or your fave AIP-compliant fat), toss with a spoon or with your hands to coat the potatoes, and then throw it in the oven with the meatloaf.
About 45-50 minutes at 350 F is fine for these potatoes, so they should finish at the same time.
Related Paleo & AIP Recipes You Might Like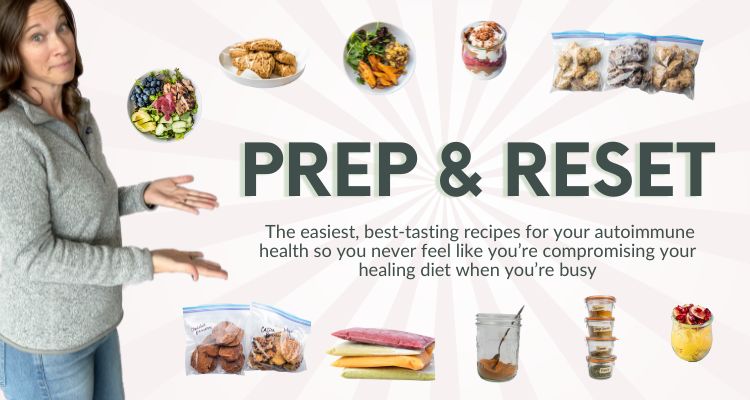 More Helpful AIP & Paleo Resources in the Freebie Library
If you find this recipe helpful, you may really enjoy the resources in my Paleo & AIP Freebie Library! There's a "dump" freezer meal plan, a list of AIP-compliant breakfast toppings, and so much more. Plus, you'll get even more ideas sent to your inbox! Get the password here.
Sweet-and-Sour Paleo & AIP Meatloaf Recipe
If you make this meatloaf, I'd love to hear how it turned out! Either comment below or share a pic on Instagram and tag me @thrivingautoimmune!
Sweet-and-Sour Meatloaf (Paleo, AIP)
Not sure what to make for dinner? This sweet-and-sour Paleo & AIP meatloaf is super easy to make, just mix and bake! And the best part? You can make one now and freeze one for later without cooking! This recipe takes your meal prep to a whole new level – one without any extra effort! Also egg-free and nightshade-free and no breadcrumbs!
Serves: This makes 6-8 slices, depending on how big you make them.
To make coconut-free: Omit the coconut aminos or you could also make your own coconut-free coconut aminos using this recipe by Mel Joulwan. I recommend making a batch of this and freezing it in an ice cube tray, giving you approx 2 tbs of "coconut aminos/soy sauce" per ice cube to use whenever you need it!
Ingredients
1/4

cup

Coconut Sugar

(use Maple Sugar to make coconut-free)

2

tbs

Apple Cider Vinegar

14 oz

can

Pineapple Chunks

(juice drained)

2

tbs

Coconut Aminos

(see note above about making this coconut-free)

1

tsp

Sea Salt

1

tsp

Garlic Powder

1

tsp

ground Ginger

2

stalks

Celery

(chopped)

1

lb

Ground Pork

1

lb

Ground Beef
Instructions
Directions for freezing:
Put all of the ingredients into a 1-gallon freezer bag or container. Massage lightly with your hands to mix the ingredients. Push all the air out of the bag, seal, label and freeze. When ready to eat, thaw overnight in the fridge or quickly in a bowl of cool water.
Directions for making the meatloaf now:
Put all of the ingredients into a large bowl and mix well. 
Directions for Serving:
Thaw the meat if frozen in the fridge overnight. Shape into a meatloaf shape and place on a baking sheet covered in parchment or into a glass baking dish OR put the meat into a bread pan. (Note – if using a bread pan you may want to put a baking sheet under it to collect any fat that may spill over)

Bake in the oven at 350 F for 1 hour or until done (a meat thermometer inserted in the center of the meatloaf should read 160 F). Drain any fat that comes out and serve!
Notes
Make one now AND make one for later really easily! Watch the video for more info on how to do this, but basically, have a bowl and bag ready. Double the ingredients and then just split between the bag and bowl. Freeze the bag, make the meatloaf in the bowl! 
Did you make this recipe?
Leave a comment below or share a photo on Instagram and tag me @thrivingautoimmune !