This post may contain affiliate links. Please read my disclosure policy.
These quick and easy snacks for the Paleo & AIP diets will keep your tummy happy in between meals!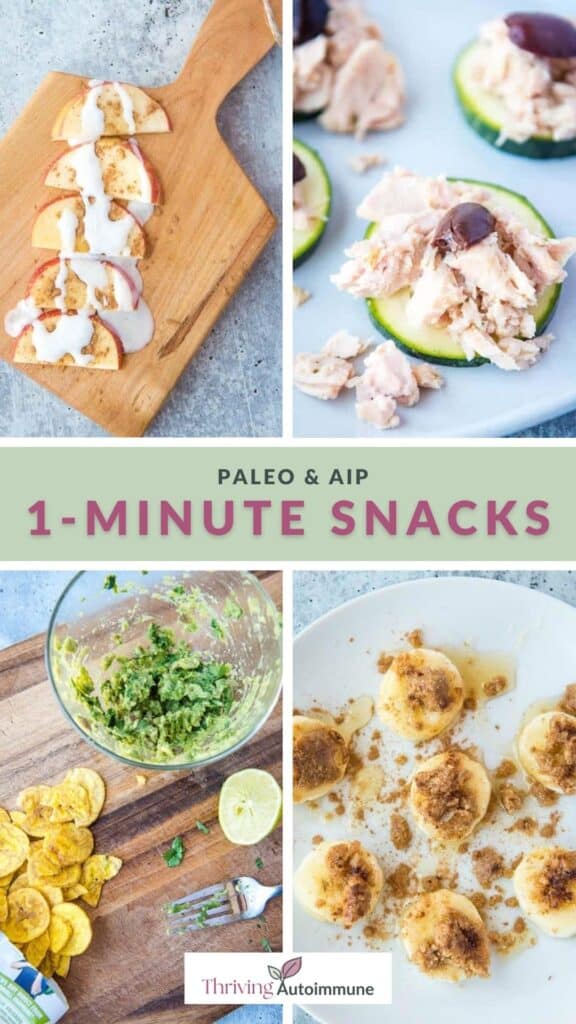 I don't know what it is, but snacks always seem to be the hard thing to figure out, no matter how you eat. Add in the element of being on a diet that eliminates food groups and it's so much harder!
I've given lots of snack ideas before – especially for the AIP diet – like these 25 AIP Snack Ideas and Emergency AIP Snacks, but today I want to give you 5 really quick and easy snacks that are compliant for both the Paleo and AIP diets!
Quick & Easy Paleo & AIP Snacks Video
If you're more of a visual person, watch the full-length YouTube video showing you how simple these Paleo & AIP snacks are – no cooking skills are required!
(Update 2021 – I added one more snack – the Tigernut Butter Stuffed Dates to the bottom of this post that was not included in this video)
Cinnamon Apple Snack (Paleo, AIP, Whole30)
Snack # 1 are the Cinnamon Apple Slices. These are Paleo, AIP, and even Whole30 and super quick to make.
They consist of just 3 ingredients – an apple, cinnamon, and melted coconut butter – and take just seconds to make.
See the Cinnamon Apple Snack Recipe here!
Avocado with Sea Salt and Lime (Paleo, AIP, Whole30)
Snack # 2 doesn't get much easier. It's literally an avocado sprinkled with sea salt and lime juice.
Even though it's incredibly simple doesn't mean it's not good!
Easy Guacamole and Plantain Chips (Paleo, AIP, Whole30)
Snack # 3 is a super quick nightshade- and seed-free guacamole. If you're on Paleo you can add cumin and peppers to a guacamole, but if you're on AIP you can't have those, so this is a tasty version for you.
This is simply 1/2-1 avocado, mashed, with a pinch of sea salt and garlic powder, a splash of apple cider vinegar, the juice of 1/2 of a lime, and a tablespoon or so of fresh cilantro.
I am a participant in the Amazon Services LLC Associates Program, an affiliate advertising program designed to provide a means for us to earn fees by linking to Amazon.com and affiliated sites.
Just mix it all together and serve with your favorite brand of plantain chips! (I used Inka chips as I love those for guac – nice and thick!)
Tuna Salad Bites (Paleo, AIP, Whole30)
Snack # 4 are Tuna Salad Bites. These are mayo- and egg-free and whip up in no time.
The ingredients for this one are simply a zucchini or cucumber, a can of tuna, apple cider vinegar, olive oil, sea salt, dried parsley, and olives.
They are Paleo, AIP, and Whole30 and can also be used for lunch!
See the recipe for the Tuna Salad Bites here.
Banana Bites (Paleo, AIP, Nut-free)
Next we have banana bites.
These are another quick snack that could also serve as a dessert. They're the only non-Whole30 meal in this bunch, and that's because of the honey that's drizzled over the top. Of course you could always skip that…
These are simply a banana that has been sliced, topped with tigernut butter (I like this one by Roots or you can make your own 30-second tigernut butter) , sprinkled with cinnamon, and drizzled with honey.
You could of course use any nut butter of choice if you're not doing AIP.
Tigernut Butter Stuffed Dates
Using 30-second tigernut butter or a traditional tigernut butter out of a jar, split some dates open and stuff them! The recipe gives some ideas on how to make it a bit more flavorful, but still, this snack/dessert is satisfying and delicious.
See the recipe for the Tigernut Butter Stuffed Dates here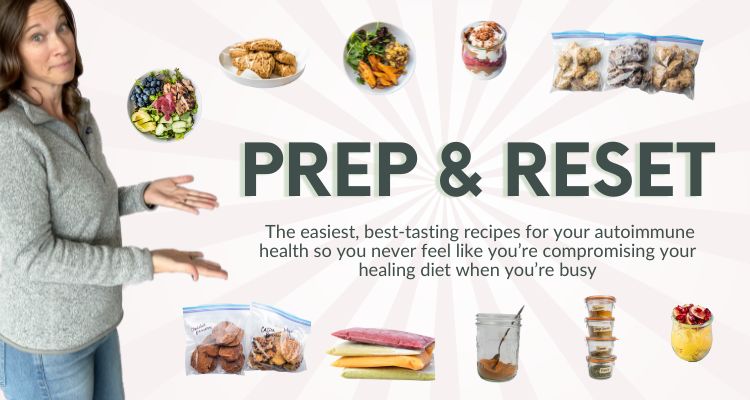 I hope these have helped you with some tasty ideas for snacks!

Other Paleo and AIP Snack Ideas: