This post may contain affiliate links. Please read my disclosure policy.
Take your mashed cauliflower to a whole 'nother level with flavorful spices in this comforting side dish. Suitable for Paleo and Whole30 and Stage 1 AIP Reintroductions (seed spices).
Mashed cauliflower was my first grain-free comfort food.
My older son and I had been on the GAPS Diet Intro for approximately 3 days and I was DYING. It had been our first foray into a diet that didn't include bread and pasta and while he seemed to be ok with it all, I wasn't sure I was going to last much longer.
The GAPS Intro is pretty strict though, I mean, we had slow-cooked onions for breakfast for the first day. Onions! Nothing else. It was terrible.
Mashed Cauliflower to the Rescue
So I can't remember if on day 3 I had the genius idea of mashing my cauliflower into a mashed-potato-like dish or if I had seen it somewhere (it was 2011 – before mashed cauliflower was a normal dish on everyone's websites and tables), but nevertheless, it was a defining moment for me.
I gobbled that dish up like there was no tomorrow and felt re-energized, renewed. Like I could continue on this crazy restrictive diet to make our health better thing.
I made mashed cauliflower almost every day after that while on the GAPS Intro and it's remained my steadfast partner in crime over the years since.
But sometimes, like in every relationship, you need to spice things up a bit.
And that's where actual spices help – spices like mustard, turmeric, and cumin in this case.
Ingredients in this side dish
There aren't a lot of ingredients in this dish, yet it's super flavorful.
You'll need:
• Cauliflower – obviously 🙂 But you can use either fresh or frozen. It doesn't matter
• Olive Oil – this is my preferred fat in this recipe as it has some good complimentary flavor, however you could use avocado oil
• Mustard Seeds – these are kind of spicy in a horseradish/wasabi kind of way so if you don't like spice, reduce or omit them
• Turmeric – this is what causes this mash to turn yellow, but also is a delicious anti-inflammatory spice!
• Cumin – this spice brings lots of flavor to this dish
Equipment you might need:
I am a participant in the Amazon Services LLC Associates Program, an affiliate advertising program designed to provide a means for us to earn ees by linking to Amazon.com and affiliated sites.
How to make this dish
This is an extremely easy side dish to make.
• Boil water
• Add the cauliflower and boil until soft
• Mash with a stick blender or potato masher
• Add spices and mix
That's it!
You can also steam the cauliflower or roast it until soft as well, but boiling is what I find to be easiest.
What mashed cauliflower goes well with
Mashed cauliflower is great in a plain-vanilla kind of way. It's great under sloppy joes or chili or beef stew.
But when you've got a simple pork chop dish or roast chicken, a side dish like this can provide a ton of flavor really helps make that meal so much better.
This goes great with:
• Pork chops
• roast chicken
• Mustard & Fennel Roast Pork Tenderloin
• a juicy steak
• and also paired with a side salad for some greens (try the Kale Salad with Cranberries and Almonds)
Make Ahead
You can make this side dish up to 5 days ahead of time and simply reheat on the stove or in the microwave.
AIP Reintroduction Stage 1 compliant
This recipe is suitable as a Stage 1 AIP reintroduction because there are 2 seed spices in it – mustard and cumin.
Everything else is AIP compliant however!
More Helpful AIP & Paleo Resources in the Freebie Library
If you find this recipe helpful, you may really enjoy the resources in my Paleo & AIP Freebie Library! There's a "dump" freezer meal plan, a list of AIP-compliant breakfast toppings, and so much more. Plus, you'll get even more ideas sent to your inbox! Get the password here.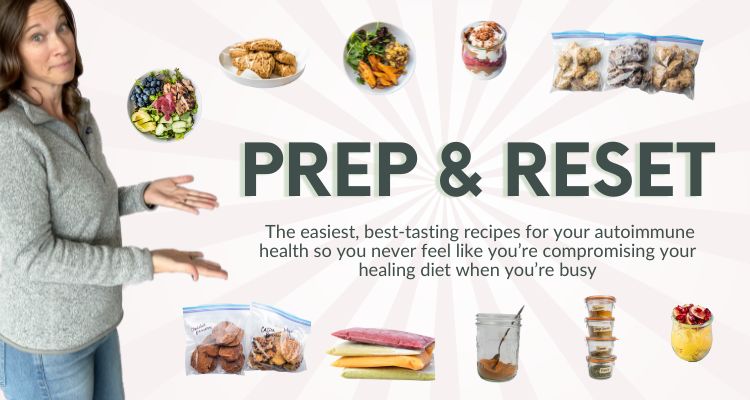 Mashed Cauliflower Recipe
I hope you enjoy this mashed cauliflower! If you make it I'd love to hear how it turned out! Either comment below or share a pic on Instagram and tag me @thrivingautoimmune!
Mustard and Turmeric Mashed Cauliflower
Take your mashed cauliflower to a whole 'nother level with flavorful spices in this comforting side dish. Suitable for Paleo and Whole30 and Stage 1 AIP Reintroductions (seed spices).
Ingredients
1

med/large head Cauliflower

3

tbs

Olive Oil

(or Avocado Oil)

1

tbs

Mustard Seeds

1

tsp

Turmeric

1

tsp

Cumin

Sea Salt to taste
Instructions
Put a large pot of water on the stove to boil. Cut the cauliflower into small pieces. When the water is boiling, put the cauliflower in the water and boil for 15 minutes or until a fork easily pierces the cauliflower.

Drain, put in a large bowl, and either blend with a stick blender or a potato masher. Add the remaining ingredients and mix. Taste and add more salt if necessary. Serve.
Did you make this recipe?
Leave a comment below or share a photo on Instagram and tag me @thrivingautoimmune !