This post may contain affiliate links. Please read my disclosure policy.
Save money over the expensive brands and make your own toasted coconut chips! They're an extremely easy snack that just takes minutes to make and have endless flavor possibilities. They're Paleo, Whole30, and AIP-compliant and can be whipped up in 10 minutes.
First Published: September 14,2015… Last Updated: July 5,2019
One of the easiest snacks to make are toasted coconut chips. Literally all you need is a pan, a stove, and some coconut chips.
You can adorn them with all sorts of spices to vary the flavor and from start to finish creating the snack takes somewhere around 10 minutes. And then they are crunchy, crispy, and satisfying to boot.
Where do you find raw Coconut Chips?
Coconut chips typically can be found in the baking aisle of most grocery stores. Sometimes they're with the "special flours" (like where you see all the Bob's Redmill things) and sometimes they're with the shredded coconut.
*I am a participant in the Amazon Services LLC Associates Program, an affiliate advertising program designed to provide a means for us to earn fees by linking to Amazon.com and affiliated sites.
You can also get them online, but be sure to compare prices if that's a factor for you.
Why not pre-toasted Coconut Chips?
These days you can find pre-toasted coconut chips in most stores and online. They're great, and I use them myself often.
However, they can be EXPENSIVE and sometimes, the pre-toasted ones get a bit rancid. I HATE rancid coconut.
Plus I just like making my own flavors (see below for some ideas).
My favorite brand of pre-toasted coconut chips is Dang. They typically are with the dried fruits and nuts in grocery stores, Target and Wal-mart.
How to Make Toasted Coconut Chips:
Making toasted coconut chips is super easy. You just put them in a pan and heat them until they start to turn brown.
You can also make these in the oven, but I don't prefer that way since it's waaaay too easy to get sidetracked and burn them. They seriously go from toasty to burned in a minute.
Since I am the queen of distraction in the kitchen I like the pan toasting method better, though you can still burn these as well if you go and start cutting up veggies for dinner and baking some muffins for tomorrow's snacks, etc. So moral of the story, stay rather attentive to these.
Set a timer if you do have to step away so that you can have a reminder to check on them.
Make this easy snack ahead of time
Like I said, this is a great snack and topper that can go on anything! You can store toasted coconut chips in an airtight container or resealable bag in the fridge for up to 4 weeks. Just see if they'll last that long.
Coconut Chip Flavor Combos:
Some flavor combos I love are:
pinch of dried Cinnamon (Paleo, Whole30, AIP)
pinch of Curry Powder (Paleo, Whole30)
pinch of just Sea Salt (Paleo, Whole30, AIP)
a pinch of Sea Salt and a splash of Apple Cider Vinegar (Paleo, Whole30, AIP)
a pinch of Cinnamon and Coconut Sugar (I like to grind the coconut sugar a bit with a coffee grinder to make it a bit more powdery so that it sticks better) (Paleo, AIP)
a pinch of Pumpkin Spice (did you hear that Primal Palate has now come out with a sweet spice pack including Pumpkin Pie Spice, Apple Pie Spice and Cinnamon Sugar Cookie? Their spices are ah-MAZ-ing and a great use for these coconut chips) (Paleo, Whole30, AIP)
Should you add coconut oil to make the spices stick?
This is probably the question I get most about these! You can add a small amount of coconut oil, like 1/2-1 tsp in when you add your spices to help the spices adhere to the chips a bit more, but I hardly ever find this necessary.
What diets are Toasted Coconut Chips appropriate for?
Toasted Coconut Chips themselves are appropriate for almost every diet except maybe a low-fat one. They are Paleo, Whole30, AIP (Autoimmune Paleo Protocol), Keto, Vegan, Vegetarian, etc.
Just watch what spices you add to it to make sure you remain AIP-friendly if you're on that protocol and that you don't add sugars for Whole30.
Other Ways to Use Toasted Coconut Chips
One of my FAVORITE ways to eat toasted coconut chips is to just add a little sea salt, and then combine them with some dried kiwi, dried mango, and macadamia nuts to make a tropical trail mix. (The trail mix is Paleo, Whole30, and if you remove the nuts, AIP-friendly)
Another trail mix I make often is dried blueberries, toasted coconut chips, and pecans. (Paleo and Whole30)
They also are great on top of a chia pudding. A great combo is fresh mango or papaya chunks, kiwi, and toasted coconut flakes. (sensing a tropical theme here?) (Paleo and Whole30)
If you're on AIP, toasted coconut chips can provide that crunch that you might be missing from nuts and seeds on porridges, etc.
More Helpful AIP & Paleo Resources in the Freebie Library
If you find this recipe helpful, you may really enjoy the resources in my Paleo & AIP Freebie Library! There's a "dump" freezer meal plan, a list of AIP-compliant breakfast toppings, and so much more. Plus, you'll get even more ideas sent to your inbox! Get the password here.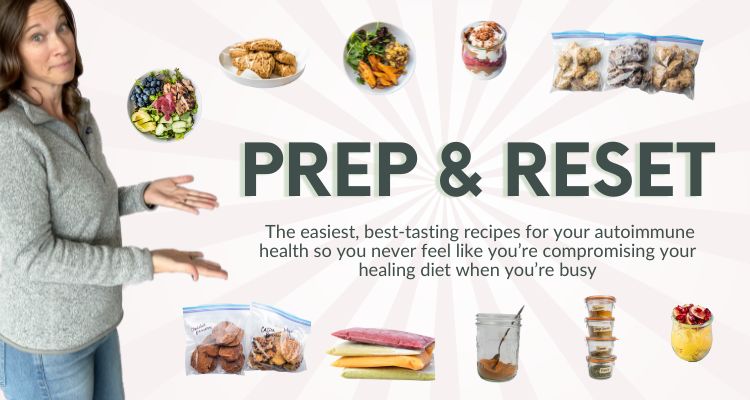 Toasted Coconut Chips Recipe
If you make these coconut chips, I'd love to hear how they turned out! Either comment below or share a pic on Instagram and tag me @thrivingautoimmune!
Toasted Coconut Chips
Toasted coconut chips are an extremely easy-to-make snack that's Paleo, Whole30, and AIP-compliant and can be whipped up in 10 minutes.
Make Ahead: Once the coconut chips have cooled down, store in an airtight container or resealable bag in the fridge for up to 4 weeks.
Ingredients
1

cup

Coconut Chips

1/2 – 1

tsp

Any Desired Spices
Instructions
Heat a non-stick pan over medium heat.

Pour a layer of coconut chips into the pan. Let it sit there for about 3 minutes.

Start to stir occasionally until the chips are browned. Make sure you don't leave the pan unattended when the chips start to brown as they can go from toasted to burnt in a very short time.

Turn the heat off and add your desired spices. Stir.
Notes
You can add a small amount of coconut oil (like 1/2 tsp – 1 tsp) if desired to help the spices stick a bit more.
Did you make this recipe?
Leave a comment below or share a photo on Instagram and tag me @thrivingautoimmune !

You May Also Like:
This post was included in Phoenix Helix's AIP Recipe Roundtable # 91.